sym_ident Class Reference
Class for variable identifiers. More...

#include <dsym.h>

Inheritance diagram for sym_ident: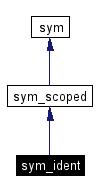 [legend]

Collaboration diagram for sym_ident: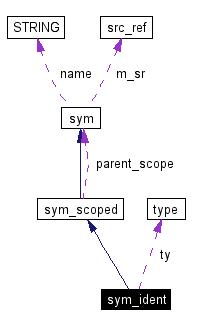 [legend]
List of all members.
---
Detailed Description
Class for variable identifiers.

Note that this does not include constants (they will be sym_const objects).

The properties of identifiers are:
allocation

Is the identifier allocated staticly or in the frame. Signals and variables declared in processes are allocated in static data. Variables in procedures and functions are frame allocated.

Variable kind

Is the identifier a signal or a variable.
Note that there is no variable offset associated with the symbol, since this is generated by the code generation phase. Symbols in the p-code generated by the VHDL elaborator are referenced by name. This is also true for frame allocated variables.

Each variable has a declaration in the p-code generated for a process. For frame allocated variables this declaration must identify the variable as a frame variable. The code generator can then build up the frame frame size and offsets within a frame. This fully decouples p-code generation from any machine dependent code generation.

Definition at line 161 of file dsym.h.
---
Constructor & Destructor Documentation
| | | | | | |
| --- | --- | --- | --- | --- | --- |
| sym_ident::sym_ident | ( | STRING | n | ) | [inline] |
| | | | | |
| --- | --- | --- | --- | --- |
| sym_ident::sym_ident | ( | | ) | [inline] |
---
Member Function Documentation
| | | | | | |
| --- | --- | --- | --- | --- | --- |
| const uint sym_ident::get_alloc | ( | void | | ) | [inline, virtual] |
| | | | | | |
| --- | --- | --- | --- | --- | --- |
| const uint sym_ident::get_id_kind | ( | void | | ) | [inline, virtual] |
Reimplemented from sym.

Definition at line 197 of file dsym.h.

00198     {
00199         

return

 id_kind;
00200     }

| | | | | | |
| --- | --- | --- | --- | --- | --- |
| const pType sym_ident::get_id_type | ( | void | | ) | [inline, virtual] |
Reimplemented from sym.

Definition at line 207 of file dsym.h.

References ty.

00208     { 
00209         

return

 ty; 
00210     } 
| | | | | | |
| --- | --- | --- | --- | --- | --- |
| const uint sym_ident::get_sy_kind | ( | void | | ) | [inline, virtual] |
| | | | | | |
| --- | --- | --- | --- | --- | --- |
| void sym_ident::set_alloc | ( | uint | alloc | ) | [inline, virtual] |
| | | | | | |
| --- | --- | --- | --- | --- | --- |
| void sym_ident::set_id_kind | ( | uint | kind | ) | [inline, virtual] |
| | | | | | |
| --- | --- | --- | --- | --- | --- |
| void sym_ident::set_id_type | ( | pType | t | ) | [inline, virtual] |
Reimplemented from sym.

Definition at line 202 of file dsym.h.

00203     { 
00204         assert( t != NULL );
00205         ty = t;
00206     } 

---
Member Data Documentation
---
The documentation for this class was generated from the following file:
---
Generated on Wed Mar 31 21:16:10 2004 for Data Structures for a VHDL Compiler by

1.3.3