saxparse.MessageBase Class Reference
Inheritance diagram for saxparse.MessageBase: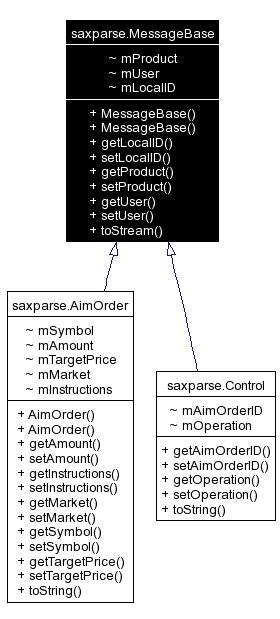 [legend]
List of all members.
---
Detailed Description
MessageBase Aug 11, 2004.

A base class for messages in a market trading system. The "product" might be an computer driven trading program. The user is the identifier for the person who started the product or who is using a manual entry trading system. The local ID is an ID that is meaningful to the trading product.
Author:

Ian Kaplan, www.bearcave.com, iank@bearcave.com
---
Constructor & Destructor Documentation
---
Member Function Documentation
00059                             {
00060         

return mUser

;
00061     }

| | | | | | |
| --- | --- | --- | --- | --- | --- |
| void saxparse.MessageBase.setLocalID | ( | String | localID | ) | |
00050                                            {
00051         

mLocalID

 = localID;
00052     }

| | | | | | |
| --- | --- | --- | --- | --- | --- |
| void saxparse.MessageBase.setProduct | ( | String | product | ) | |
00056                                            {
00057         

mProduct

 = product;
00058     }

00062                                      {
00063         

mUser

 = user;
00064     }

00067     {
00068         ps.println("product:  " + mProduct );
00069         ps.println("user:     " + mUser );
00070         ps.println("local ID: " + mLocalID );
00071     }

---
Member Data Documentation
---
The documentation for this class was generated from the following file:
---
Generated on Sat Aug 28 13:50:04 2004 for SaxParse by

1.3.8