Notes on Resturants in Rome
Introduction
Italy is a country that is justly famous for its culture and food. Italian and French cuisine have been the most influential cooking styles in the western world. Rome is reputed to be not only the civic capital of Italy, but also the culinary capital. Rome not only has its own culinary style, but its location in the center of Italy also means that culinary styles from both the North and South are represented.
This web page (like my other web pages on Italy) have been written for my own use. My notes on resturants in particular reflect the area I will be staying in during my visit to Rome, the Centro Storico (historic center) of Rome, near the Piazza Navona and the Pantheon.
It is said that Venice is one of the most expensive cities in Italy. Rome seems to top Venice when it comes to restaurant prices (or hotel prices). The era of Italy as a cheap vacation destination for Northern Europeans and Americans is now long over.
Most restaurants are closed on Sunday. And interesting exception is the Fraterna Domus (see below).
The references I have used are:
Sandra Gustafson's Great Eats Italy: Florence, Rome, Venice, Fifth Editon, 2005, Chronicle Books
The map screen shots are from Google maps.
The Centro Storico (Piazza Navona and the Pantheon)
You are here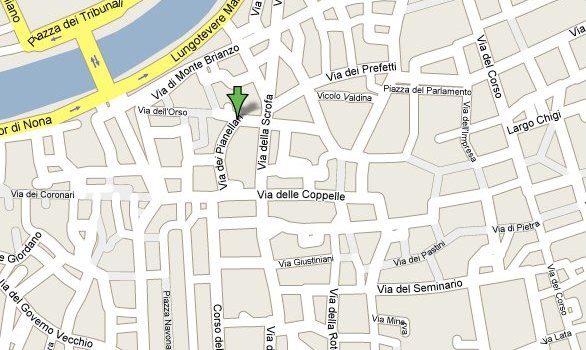 ---
L'Orso
Via Dell' Orso, 33
06 686 4904
06 686 1710
Tues-Sun; Lunch 1-3:30, dinner 7:30-11:30 Reservations essential for dinner
Accepts Credit cards
Pizza from € 6, full meals € 35-40

Orso is Italian for Bear, so this restaurant is a must for the Bear of the Bearcave.

L'Orso has a wood fired pizza oven and has a limited selection of excellent pizzas.

The antipasti is supposed to be excellent and can be a meal in itself, especially at lunch. The amatriciana, made with bacon, tomato, Parmesan and percorino is supposed to be excellent. L'Orso is also supposed to have a good selecton of grilled meats and fish.

La Campana
Vicolo della Campana, 16 (at Via Della Scrofa and Piazza Nicosia) see map below for Fraterna Domus

06 687 5273
06 686 7820
Tues-Sun; Lunch 12:30-3, dinner 7:30-11
€ 28-38
Visa and Mastercard

According to Sandra Gustafson this is a "linen table cloth" sort of resturant, although it's prices are reasonable, at least by Roman standards.

The portions are robust and she suggests ordering as you go. There is both a paper menu with daily specials and a standard plastic covered menu. The (assorted appetizers) is a good place to start. Ms. Gustafson also recommends the spaghetti alla puttanesca or fettuccine with butter and mushrooms. The deserts (dolce) are supposed to be worth saving room for.

Fraterna Domus
06 6880 2727 Via dell' Cancello, 6 (at Via di Monte Brianzo, 62, close to Piazza Nicosia) Mon-Wed, Fri-Sun
Lunch seating at 1 PM
Dinner seating at 7:30 PM
€ 14 for a 3 course meal
Reservations required

This resturant is part of a "Holy Hotel" run by an order of nuns. Dining is family style and there is a single seating at lunch and dinner (hence the need for reservations). The prices are definitely reasonable and the food is supposed to be good. Wine is not included, but the fixed price menu includes a pasta or soup, main course, garnish(?), salad and fruit.

Il Bacaro
Via Degli Spagnoli, 27 (see map above)
Mon-Fri lunch 12:30 - 2:45, dinner: two seatings at 8 and 10. Sat: dinner two seatings 8 and 10.
€ 40-45
Reservations required for dinner, advised for lunch
Credit cards

The restaurant is definitely more toward the high end of the price range, but the food is supposed to be innovative and excellent. The veal scoloppini (scoloppe di vitella con pomodorinin Pachino e ruchetta) is supposed to be excellent.

Lilli
06 686 1916
Via Tor di Nona, 23 (at the corner of Via dell' Arco di Parma)
Mon-Sat: lunch 1-3, dinner 8-11 € 20-25
Reservations advised

This sounds like a good neighborhood trattoria. The prices are reasonable and it apparently has a nice terrace if the weather is good. The rigatoni alla Lilli sounds wonderful. It is made with tomatoes, parmesan, black pepper, basil and butter. Friday they have fish.
---
Casa Bleve
Via del Teatro Valle 48/49
www.casableve.it
Tues-Sat: lunch buffet 10:30 - 3:30, evening buffet 6-8 (wed-Fri until 10)


Casa Bleve is a stylish enoteca (a wine bar). The bar has a stained glass ceiling and is supposed to be very attractive. There is no hot food, but a buffet of salads, vegetables, cheeses, cold meats, seafood and desserts.

Osteria Dell'Ingegno
Piazza di Pietra, 45 (off Piazza Colonna)
06 678 0662
Mon-Sat: lunch 12:30-3 PM
Apéritifs 3:30-7:70 PM
dinner: 7:30-midnight
Light meals: € 9, Lunch: € 16-25, dinner: € 30-40

In studying Italian I've always had a bit of trouble with the "G". At the start of a word "g" can be pronounced like a "j" in english, in the middle of a like biglietto (ticket) the "g" has an english "y" sound. So looking at the word Ingegno, I'm not sure how it's pronounced. But the restaurant sounds like it should definitely be on the list for a visit.

Osteria Dell'Ingegno is supposed to have an extensive wine selection (I wonder if they have Primitivo Manduria, which is from Southern Italy and is like the California Zinfindel in it's body). There are lots of salads and antipasti platters. Before dinner there is soup, grilled vegetables with mozzerella and other antipasti. The entrees sound innovative and they are supposed to have a very good chocolate walnut torte.
---
The Via del Governo Vecchio off the of Piazza Navona seems to have a number of reasonably priced places to eat.
L'Insalata Ricca
Piazza Pasquino, 72
Daily: lunch 12:30-3:30, dinner 6:45-11:45
€ 10-15
Credit cards

The L'Insalata Ricca restaurants are a small chain that serves good, reasonably priced food. The wine is also supposed to be good. These restaurants are supposed to be popular with Italian families. Great Eats recommends arriving early because soon after the resturants opens there will be people lining up for tables.

Pizzeria Da Baffetto
Via del Governo Vecchio, 114
Dinner daily: 6:30-1 AM
Cash only


This is supposed to be an excellent pizza take out resturant and there is supposed to be a line out the door waiting to order pizza to go. There are a few seats, but the restaurant is tiny and seating sounds uncomforable. Other than pizza the only thing they have is bruschetta and crostini, both of which sounds pretty good too.

Trattoria da Gino E Pietro
Corner of Via del Governo Vecchio, 106 and Vicolo Savelli, 3
Mon-Wed, Fri-Sun lunch noon-3 PM, dinner 6:30-11 PM
06 686 1576 (Reservations advised, especially for Sunday)
MC, Visa
€ 20-28

The vegetable antipasti is supposed to be very good, as are the pastas and fresh fish. The tiramisu della casa is supposed to be good as well.

Trattoria Da Tonino Al Governo
Via del Governo Vecchio, 16/19
Mon-Sat: lunch 13-3 PM, Dinner 7-midnight
Cash only, no reservations
Limited english
€ 6-15

This modest hole-in-the-wall trattoria sounds like it might be a welcome change to Rome's good, but expensive resturants. Sandra Gustafson writes:

If you are looking for unsung budge dining, you have found it. What you won't find is atmosphere or ambience, unless you count the butcher paper on the tables and the old-fashioned Coke machine standing in the corner. As you walk in, the good smells wafting out of the kitchen tell you that this is going to be good and the crowd confirms it. All pastas, including an excellent pasta alla carbonara, are priced at a mere 5 €. Rabbit, roast veal and a strapping beef stew will set you back only 6 €.

Hostaria del Moro
Vicolo del Cinque, 35-37
Phone: 06 5809165

Hostaria del Moro, known to its expat regulars as 'Tony's,' is a lovely restaurant in one of the small cobblestone alleyways in Trastevere. Their specialty is seafood, but there are plenty of other dishes for those who aren't seafood lovers.

As an appetizer, I recommend the mixed bruschetta shared between two or more people. The lasagne is a good choice if you want a 'primo piatto,' and my favourite 'secondo piatto' is the risotto alla pescatora. They staff is very friendly; the owner Tony and the headwaiter Alex will take especially good care of you. They might even throw in a shot of limoncello on the house. Closed on Mondays, but Tony also owns the place with the green checkered tablecloths across the street, and one of the two is always open.

Directions: From Piazza Santa Maria in Trastevere take the street -- veering off to the right from the right-hand side of the church. Tony's is the one with the red-checkered tablecloths on your right a few hundred metres down. [Perhaps on the ground it is different, but these directions seem to leave something to be desired]
From a Virtual Tourist Rome Restaurants review by "jungles" (Wendy).

Hostaria del Moro was also recommended by this web site (in Italian).