Hotels and Beach House Rentals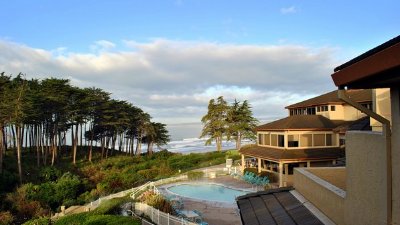 If you are staying overnight on July 19th, the night before the wedding, or July 20th, the night of the wedding, it is important that you make your reservation ASAP, since this is a popular beach area and the two main hotels are already heavily booked.
Hotels
Seascape Beach Resort
Rooms and townhouses starting at $280

Seascape is where our wedding festivities will take place. This is a four diamond resort with beach, golf course, tennis, pools, spa, restaurants, bars and other amenities. They have hotel rooms and townhouses that can sleep up to six. Seascape books very quickly for summer weekends, so if you plan to stay here please make your reservation as soon as possible.

We have discounted rates at Seascape, where the wedding is taking place, please click here for the wedding party prices for Seascape.

Our guests receive a 20% discount on Seascape Resort room rates, call 1-831-662-7180 to reserve a room and tell them you are with the Butler/Kaplan party. This discount is not available if you book through their website.

Best Western Seacliff Inn (4 miles from Seascape)
Rooms from $179
Rated Number 2 in Aptos on TripAdvisor

We are also holding a small block of rooms at the Best Western Seacliff Inn, if you wish to stay here, please let Kate know. Our rates there are $162 for the night of the wedding (July 20) and $126 for the night before the wedding, if you're coming to our beach party on July 19. Please let Kate know soon. She has to get a room released from our block. You can't get this rate if you call the hotel directly.

Rio Sands Motel (http://www.riosands.com)
116 Aptos Beach Drive
Aptos, CA 95003
(800) 826-2077
(831) 688-3207

Fairfield Inn Capitola
1255 41st
Capitola, California
1-831-427-2900

As of 06/07/12, we found the following lower-priced hotels that have vacancies the night of our wedding:

Under $100
Budget Inn - Santa Cruz
America's Best Value Inn - Watsonville
Valley Inn - Watsonville

Under $150 (all in Santa Cruz)
Beach Way & Suites
Continental Inn
Ocean Gates Inn
Oceana Inn
The Islander

Under $180
The Inn at Pasatiempo, Santa Cruz
Beach House Rentals
There are a number of beach houses for rent in the area, some have 4-7 night minimums, others do not. These are great if you're staying more than a couple of days, bringing your family or sharing with friends. You can rent anything from a small house to a huge one.