The Architecture of Antoni Gaudi and the Sagrada Familia (2005)
Barcelona is justly famous for its architecture. People in Barcelona take architecture and design very seriously. One of the most famous architects in Barcelona and perhaps the world is Antoni Gaudi, who designed a number of buildings in Barcelona. I have books on Gaudi's work, which I've admired since I originally saw it. The opportunity to see Gaudi's buildings was one of the reasons I chose to visit Barcelona.
Gaudi's style could be described as a mix of Art Nouveau and his own unique organic style which was influenced by shapes and structures from the natural world. One of Gaudi's most impressive and beautiful buildings is Casa Batlló, shown below.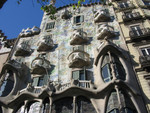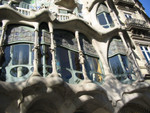 Gaudi's flowing organic style can be seen in many of the details of Casa Batlló (click on image for a larger view)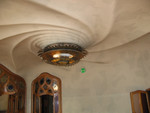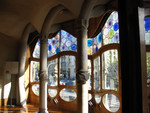 Casa Batlló apartment (click on image for a larger view)
The opportunity to walk through the amazing Casa Batlló was an emotional experience for me. Seeing Casa Batlló is far more impressive than seeing photographs of it. This building is truly one of Gaudi's masterworks.
Gaudi is also famous for his last, and most obsessive, work of his life, the Sagrada Familia temple.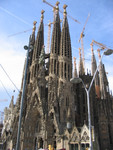 Sagrada Familia (click on image for a larger view)
Gaudi was a complex man. His architecture was revolutionary, but he was a deeply conservative man. At a time when intellectuals in Barcelona were moving to the left, Gaudi remains a conservative Catholic.
As Gaudi got older his views seemed to become more and more extreme. Gaudi's construction and obsession with the Sagrada Familia was in part a reaction to the sometimes violent anti-clericalism that swirled around Gaudi. Gaudi felt that Barcelona and perhaps all of mankind owed his Catholic God repentance and supplication. Sagrada Familia was a symbol of this repentance and supplication for Gaudi.
Virtually all of the books on Gaudi's architecture include the Sagrada Familia. So I was looking forward to seeing this last work of the great architect. As it turns out, I should not have wasted my time and the 8 Euro entry fee. Sagrada Familia is a disaster.
Only the front four towers of Sagrada Familia were finished during Gaudi's lifetime. He financed the temple entirely on donations and received no support from the Catholic church. Gaudi was constantly short of funds and literally went door raising funds for the Sagrada Familia. The building is, ironically, a Catholic temple, but it will probably never belong to the Catholic church or be consecrated for religious services.
The part of Sagrada Familia designed by Gaudi has only a shadow of the flow and life that can be seen in Casa Batlló or in Park Guell. In the grips of religious fervor, Gaudi's architecture dried up and lost some of its life. While Gaudi's section of Sagrada Familia has none of the soaring beauty of his earlier work, it is not without interest. Gaudi's organic shapes remain, his stone work describing Christian mythology.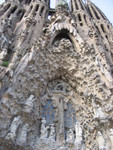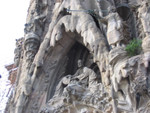 The front of the Gaudi designed section of Sagrada Familia (click on image for a larger view)
Gaudi's existing designs and architectural models were destroyed during the Spanish civil war. Although it was possible to reconstruct some of the lost material, there is no complete design for Sagrada Familia. The new section of Sagrada Familia has not been designed by Gaudi. This new section has been controversial and this controversy is richly deserved. The new section is simply a disaster. For example, like the Gaudi's towers, the new section has sculptures surrounding the entrance. As the photograph below shows, rather than Gaudi's flowing lines, these sculptures have angular modernist lines. Bizarrely, in a bow toward Gaudi's work, some of the sculptures have helmets that follow the design of Gaudi's Casa Mila chimneys.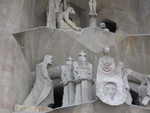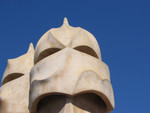 Sculpture over the new entrance to Sagrada Familia and a view of the chimneys at Casa Mila (click on image for a larger view)
The new section of Sagrada Familia has the feeling of a bad Gaudi imitation. Poorly designed modernism recycling Gaudi's themes. For example, the structural supports of the new interior (shown below) are modeled after the supports of Gaudi's chapel at Colonia Guell. But in this incarnation they are dead and uninteresting.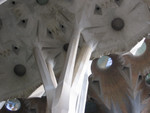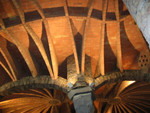 The interior of the new section of Sagrada Familia and the actual pillars in Gaudi's chapel at Colonia Guell, which is referred to as The Crypt (click on image for a larger view)
Even if the new design and architecture were not terrible, much of the interior is obscured by the construction scaffolds as the view below, though the interior, shows.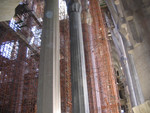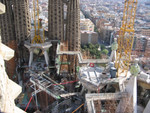 Construction in Sagrada Familia (click on image for a larger view)
Some people have proposed that Gaudi's four towers should have been left as they were and that new additions should never have been added. I agree. The bizarre amalgam that Sagrada Familia has become is a depressing monument to an architect who was capable of great work. Rather than visiting Sagrada Familia, I recommend buying lunch with your 8 Euros and walking down Avinguda de Gaudi to the Lluis Domenech i Montaner's remarkable Hospital de la Santa Creu i Sant Pau.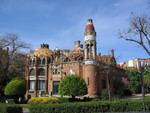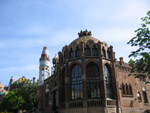 Two of the pavilions at the Hospital de la Santa Creu i Sant Pau (click on image for a larger view)
The Hospital de la Santa Creu i Sant Pau is one of the spectacular modernista sites of Barcelona. If you visit, please remember that it is still an active hospital and medical center. Do not wander where you should not and most of all, do not get in the way of the medical personnel.
My Barcelona photo gallery can be found here
---