A Bear Samples Barcelona Restaurants (2005)
Being an ursine creature, I love good food (smackerals, in Bear parlance). I'm a fairly decent cook and I've been fortunate to have been to some very good restaurants in the United States. Knowing that I would be visiting Barcelona, my sister gave me a book on Catalan cooking (Barcelona is in Catalonia), The Catalan Country Kitchen by Marimar Torres. Both Colm Tóibín (author of Homage to Barcelona) and Robert Hughes (author of Barcelona: the Great Enchantress) write favorably of the food in Barcelona. So I expected that the food would be wonderful.
Both Italy and France have a reputation for excellent food. I've heard claims that even Italian truck stops have good food. Barcelona is justly famous for its architecture and culture, but when it comes to food it falls short. Perhaps someone who knows the city well and who is fluent in Spanish would have a different view. I certainly have not made an exhaustive survey of the restaurants. But this is not a city where you can walk into a random restaurant and expect good food.
Although I found Catalan food disappointing, Spanish wines were a pleasant surprise. I did not have a bad glass of wine the entire time I was in Barcelona. Spain ranks with California as an exceptional wine growing region. Spanish wines are not only good, by they are reasonably priced. You can get good bottles of Spanish wines for 5 to 7 Euros and excellent bottles for 10 to 20 Euros.
I should also note that Barcelona is full of neighborhood bakery shops that sell wonderful French style baguettes, pastries and sandwiches (little baguettes spread with tomato and a thin layer of ham or ham and cheese). There were three bakery shops within walking distance of the apartment I rented. The baguettes are mostly "sweet" french bread, but the supermarket in the basement of El Corte Ingles (off the Placa de Catalunya) sold pan natural loaves, which in the US we would call sourdough. The pastries are wonderful and one can get first class croissants, with or without chocolate.
In the context of my criticism of food in Barcelona, let me note that my country's contribution to international cuisine has been McDonald's. In the town I live in you cannot even get a decent breakfast at a restaurant. My beloved and I went to one restaurant where the cook did not even understand how to saute potatoes. There is one decent restaurant in town and they serve Italian food. Outside of the coastal cities in the US (San Francisco, Los Angeles, New York, Boston, New Orleans) food in the US is, in general, terrible. In comparison to most of the restaurants in the "red states" that voted for George Bush in 2004, I'm sure that Catalan food is very good. In many places in the United States the peak of cuisine is a good beef steak.
The United States has no national cuisine. Compared to anywhere in Europe, we are a very young country. But the saving grace for US food, when it is good, is that we have imported cooking techniques from France, Italy, Mexico and Asia. We have Julia Child, Marcella Hazan, Paul Prudhomme and many other fine cookbook authors. These authors and the chefs that follow European derived cuisine are US food at its best. Even in the case of New Orleans cooking, the styles are all imported from Europe or the Caribbean.
Soon after I arrived one of the first things that I missed was a lettuce salad. One thing that Barcelonistas don't seem to understand is lettuce salads. Lettuce salads in Barcelona are like salads in the United States when I was growing up. They bring you the lettuce and bottles of olive oil and vinegar. The idea of a chef creating a tasty salad dressing is entirely missing. At least in Barcelona they are not in love with iceberg lettuce and "thousand island" dressing, which in my opinion is the US salad at its worst (a "red state" salad).
The good news is that one can buy bags of prewashed lettuce at El Corte Ingles (the big supermarket off the Placa de Catalonia), along with good spanish olive oil and Balsamic vinegar, so I made my own salads.
I've listed below my restaurant experiences, from great to "places to avoid". This is based on my personal preferences and view of food. Given my age, the number of places I'd like to visit and the limits of time and budget, I suspect that this will be the last time I visit Barcelona. I hope other people find this brief list useful, but I don't plan on adding to this list once I leave Barcelona. So please don't send me email with restaurants that I should include in this list.
Great Food
Given the US dollar exchange rate in 2005, the limits of time and the lack of sophistication of many Barcelona chefs, the list of memorable restaurants is rather small (e.g., it consists of one restaurant, Agua). I am sure that there are other fine Barcelona restaurants and I simply have not found them.
Agua, Pg. Martitim de la Barceloneta, 30 (down the street from the Ciutedella Metro)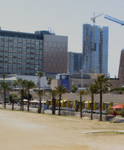 I've read about three and four star restaurants spending a million dollars on their interiors. I've thought that this was pretentious, since a good restaurant should be able to stand on its food. Eating at Agua I realized that I'm at least partially mistaken. Good food is the core of the experience, but other factors combine to make a meal a pleasant and memorable one.
Agua's food is very good. The pleasant decor of the restaurant, the beautiful setting and the excellent service combine to make a meal at Agua memorable.
The interior of Agua is pleasantly modern, without being harsh. In keeping with the aquatic theme they have interesting fish sculptures near one of the windows. The restaurant is located right next to the beach boardwalk, so the sand and the sea are right there. You can choose to eat on the patio. The first time I ate at Agua, I sat inside since April in Barcelona can still be a little bit cold. On my second visit it was warmer and I sat on the patio. The beach and the ocean are beautiful with the sea and the attractive people of Barcelona stroll by.
The first time I ate at Agua I had a fish soup for my first course, followed by grilled tuna, served with a salsa. I had a glass of nice white wine to go with the tuna.
The soup had onion, fish and perhaps a little saffron. For desert I had a chocolate hazelnut torte, which was wonderful. The service was excellent. Much of the staff speaks at least some english and you don't get the feeling that they are there to milk the tourists (a feeling I got at Can Sole). The bill was approximately 28 Euros, plus a 5 Euro tip. Given the cost of other restaurants I've eaten at in Barcelona, I regard this as quite reasonable.
I liked Agua so much that I went there a second time. This time I had a potato, onion and sausage "tortilla" (which in the US and France we would call an omelet). It was excellent, although larger than I expected. As a second course I had one of the cod dishes. Cod is a bland fish and it came with a nice sauce, with some sauteed onion and what I think where slices of Shitaki mushroom. Again for desert I had the chocolate torte. With an agua con gas and two glasses of Agua nice house white wine, the total was about 30 Euros, plus a 6 Euro tip (I know that I sometimes leave large tips by European standards, but I appreciate restaurants that cater to my limited linguistic skills). The only problem with this meal was it's size and richness (I should have resisted desert, but their chocolate torte is too good to resist).
I first went by Agua on a Sunday (at about 12:30), which is probably the most difficult day to get a reservation, since many other restaurants are closed. I tried to get a reservation, but Agua was booked until 4:30, so I made a reservation for Tuesday.
As far as I can tell you simply cannot get into Agua, even during the week, without a reservation. The second time I ate at Agua I sat on the deck next to the beach boardwalk (it was a beautiful warm day). There were only a few tables out of perhaps twenty on the deck that were occupied. What was odd was that as people walked in from the beach and asked for a table, they were turned away (I imagined them being told "the first available table is at 4:30"). From appearances Agua simply will not seat anyone without a reservation, even through there seemed to be empty tables. Lunch in Spain is a longer affair than in the US, so perhaps Agua is concerned that walk-ins will still be there when people show up with reservations. Or perhaps they feel that reservations maintain their upscale character. What ever the case, unless it is the middle of winter and raining, I would not assume you can walk into Agua.
Most of the staff at Agua speak at least a little english so don't be afraid to telephone them for a reservation. They were very patient with me with I phoned to make a reservation for my second visit. I have no idea what it might be like to get a reservation in June or July.
Good Food
There are a number of restaurants where you can get a good, if not great, meal in Barcelona.
Can Sole, Sant Carles 4, Barcelonetta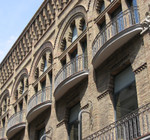 Can Sole has been open for over a century. They are located on Sant Carles, off Passeig Joan de Borbo (Comte de Barcelona), which is one of the main streets on Barcelonetta. In theory their slightly out of the way location means that they are not just a tourist restaurant. And, in fact, when I ate there most of the other diners were spanish (although there were some other tourists too).
I had a green salad and the paella. I liked the Can Sole paella better than the paella at Set Portes, since it was less oily. I had a creme brule for desert.
The Can Sole food was good, but again, in keeping with my experience in Barcelona, not great. They played a few unpleasant tricks on me as well. Like most restaurants in Barcelona, they bring you bread unasked for and then charge you a couple of Euros for it. I also asked for a glass of white wine to go with the paella and ended up with half a bottle, which I could not finish. This leaves the impression that Can Sole milks the tourist with limited spanish language skills.
Along with a bottle of San Pellegrino and a coffee, lunch was 46 Euros, or about $60 US, making it one of the more expensive lunches I've had. While it was a good meal, it was not a memorable meal. Given the cost of Can Sole, I'd give it a pass and eat a couple of times at Agua.
La Rioja (La Casa de la Rioja)
La Rioja is located just down the street from the apartment I rented at Peu de la Creu 8-10. I ate there the day I arrived in Barcelona. The people are nice and were patient with my inadequate spanish. I had a plate of bread and tomato with thinly sliced ham and sausage and asparagus in a white sauce. They also sell a decent red wine by the glass. Again, the food was good, but nothing to cross the Atlantic for.
Set Portes
Set Portes means seven doors. According to the 2002 Time Out guide this is "Barcelona's most famous temple to paella". Apparently there can be a long wait to get in, but in April I was able to get a reservation at 1:30 and when I arrived there were open tables.
For those of us who are linguistically challenged, Set Portes is nice because the people who answer the phone and manage the restaurant speak english.
I had a seafood paella and it was good. The paella has lots of seafood and is made with a seafood stock. The paella is very flavorful and the service was excellent. The paella in Barcelona is not made with any noticeable amount of saffron. Perhaps paellas spiced with saffron are from southern Spain. Unfortunately Set Portes does not sell white wine by the glass so I had carbonated water with my meal.
What marred the paella was that it is made with a great deal of olive oil. Probably something like a 1/3 of a cup or more of olive oil for the single serving. This makes the dish extremely rich and I made the mistake of eating the entire paella, which left me feeling slightly queasy.
Taller de Tapas, C/de l'Argenteria, 51 (just down the street from the spectacular Santa Maria del Mar cathedral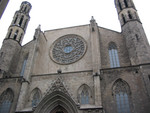 Taller de Tapas, as the name suggests specializes in tapas dishes. I had a nice dish of tiny steamed clams (lightly done with garlic), pan y tomato, a good glass of red wine and a cafe con leche. All in all, it was very pleasant.
Mediocre Food
Sadly from my limited experience, the mediocre Food category seems to fit the majority of restaurants in Barcelona.
Resturant L'Economic
The Web version of the Time Out guide on Restaurant L'Economic was more accurate than my 2002 printed guide.
In some restaurants, you're there to eat; others you visit simply to refuel. While L'Economic sidles into the latter category, the dining room is very charming: deep and narrow, lined with colorful tiles and oil paintings. The cheapest lunch deal around covers vegetable or fish soup, broad beans with ham and lettuce hearts with tuna to start, followed by unadorned fried pork or minute steak, lemon chicken, cod croquettes or fried hake. Getting hold of a table after 2pm is something of an ordeal.
The interior of Restaurant L'Economic is indeed charming. The woman who is the seems to manage the restaurant was very nice, which was a big plus to me at that point since I was very tired and hungry after my experience with the Mundial Bar.
The menu was very limited. I had a tomato and cheese salad to start (tomato y queso) and pork loin for the main course. The tomatoes were not fully ripe and the (presumably) goat cheese was bland and non-descript. The pork loin main dish consisted of three thin slices of pork loin and french fries. The pork was tender but again, nothing to write home about. The primero and secondo dishes, carbonated water and a cafe con leche came to 9.60 Euros, so the restaurant seemed to live up to its name for being "economical".
Ateneu Unio, Colonia Guell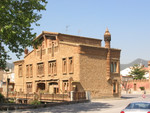 Colonia Guell is a charming little village that includes Gaudi's famous chapel (called "the crypt"). As it turned out, late April was the perfect time to visit Colonia Guell. There were at most a few other tourists there. After spending much of the late morning and early afternoon walking around Colonia Guell and visiting Gaudi's chapel, I decided to have lunch in this charming little village. The village was sparsely populated when I was there. School was getting out and mothers were collecting their children. Most people seemed to be at work elsewhere (perhaps in Barcelona, which is half an hour away by train). The few restaurants in the village seemed to concentrate on dinner and I only found Ateneu Unio open for lunch.
Ateneu Unio is located on the Placa Joan Guell (the main square of Colonia Guell), which is a lovely setting. There were only three other tables occupied, so lunch must be a loss for them during the week, outside of the main tourist season.
There was a nice young waitress who spoke a little english and was kind about my spanish. The setting and the nice waitress went some way to make up for the mediocre food. The waitress recommended the cannelloni, which was stuffed with tuna and had a cream sauce (OK, but not great). For the "secondo" course she brough me some grilled meats which consisted of some grilled pork loin slices, a tiny lamb chop, a tiny sausage and what seemed to be a thin slice of lamb rib (without much meat). Plus fried potatoes. The meal, a glass of beer and bread was about 9 Euros. I left the waitress a two Euro tip.
Places to avoid
Although I found Catalan food largely a disappointment, I really only had only two unpleasant dining experiences. One of these involved my lack of understanding of bill paying etiquette. I was at a tapas bar and paid for the tapas and then asked for a beer. The waiter thought that I had already gotten the beer and I could not clear up the problem with my limited spanish skills. So I ended up paying 2.5 Euros for a beer I never drank. The other unpleasant experience was with the Mundial Bar, which I had looked forward to eating at after reading about it in a couple of books on Barcelona.
Mundial Bar (near the Arc Triomf Metro)
Colm Tóibín writes favorably of the Mundial Bar in his book Homage to Barcelona and it got a star in Time Out: Barcelona Eating & Drinking, 2002. In the Time Out guide they write:
A welcome antidote to many of the fussy, touristy, seafood restaurants hereabouts, Mundial is a non-nonsense bar-restaurant run by three generations of an extremely welcoming family. Be warned that some of the far on offer has seen the inside of a tin or a freezer, but the parrillada, a towering heap of grilled langoustines, prawns, clams octopus and more, is a fantastic bargain.
I'm not sure what happened to the Mundial Bar. Perhaps it changed hands since 2002. Perhaps it was inherited by an incompetent member of the family. What ever the case, my experience was entirely contrary to what I've read about the Mundial Bar.
I walked from the apartment I rented in the Ravel to the Plau del la Musica Catalana, hoping to go on a tour of this Lluis Domenech i Montaner designed building. The tickets were sold out for the day, so I bought a ticket for the next day (the tour was wonderful). Since I had not seen Barcelona's gothic quarter, I decided to walk to the Mundial Bar and see the medieval era buildings. According to the guide book, the Mundial Bar starts serving lunch at 11:00 (which is very early for Barcelona where lunch usually starts at 1:30). After a long walk and some wanderings down the wrong streets, I finally managed to find the Mundial Bar.
The Mundial Bar is a hole in the wall in a somewhat rundown neighborhood not far from Barcelona's Arc de Triomf (and the Arc de Triomf metro station). When I arrived at 11:30 the steel shutter was pulled part way down over the door. A plaque on the wall next to the door confirmed the hours. I wandered around the neighborhood for another fifteen minutes, but nothing had changed. So I stuck my head under the shutter and asked if they were open for lunch. All I got was a curt no tienda (basically, "not selling"). Since my spanish is primitive I thought that perhaps the crabby gentleman at the bar was just trying to tell me that they were not open yet. So I walked over to the Arc de Triomf and back. By this time my feet were killing me and I wanted to get something to eat. When I returned at about 12:10, the shutter at Mundial Bar was raised, so I went in, still hoping to sample some of the great seafood and experience that welcoming atmosphere. There was some frozen seafood behind a glass case, which is as close as I got to seafood at the Mundial Bar. There were two women drinking coffee, but no sign of lunch being served or anyone eating. Nor did the crabby gentleman provide any help.
I finally gave up and walked across the plaza to Restaurant L'Economic (see above) and had lunch at 12:30.
I have no idea what is going on with the Mundial Bar. I don't know if they have decided against serving lunch or if it is simply a pale shadow of its reputation. If my experience is anything to go by, I'd give the Mundial Bar a pass. The restaurants along the beach in Barcelonetta will provide a better experience that I had at the Mundial bar.
---