A Bear in Barcelona, April 2005
I looked out the airplane window as Amsterdam's Schiphol airport went by. At Schiphol it was April 16, 2005. I had left San Francisco airport ten hours earlier at 4 PM on April 15.
I thought "I'm finally here. I'm in Europe. I've waited my whole life for this and I'm finally here." At forty-seven I know that my own personal event horizon is approaching. It was time to start traveling to the places I dreamed of visiting, if I was ever going to do it.
Looking at the airport I wondered how it would be different from the airports in the United States. There were lots of "Jet Blue" airplanes, but other than that it looked familiar. The airway ramps were even imprinted with Hewlett-Packard ads.
Schiphol is the largest airport I've ever experienced. My flight to Barcelona left a little over an hour after I landed. It takes over half an hour to walk from the International terminal to the terminal where the connecting flights to European Union countries leave from. On the way you have to pass through passport control to enter to the European Union.
In contrast to passport control and customs in the United States, passing into the European Union is hardly noticeable. Another example of the civilized nature of Western Europe. The lines were relatively short. They x-rayed my bag and asked me where I was visiting and why. I answered "Barcelona" and "vacation". That was it. No forms to fill out, no retinal scan, no loyalty oath to George W. Bush. Countries in the European Union have experienced terrorist attacks, but they have resisted giving up their freedoms in the face of these attacks.
There are no direct flights from San Francisco to Barcelona. I had several choices to choose from in switching planes, including Paris and Madrid. I chose Amsterdam because in the Netherlands people speak excellent english. I'm not an experienced international traveler. I feared having some problem with my plane and running into language problems. Also in the Netherlands you are much less likely to find the airport workers on strike than you are in Paris or Rome.
I flew KLM to Amsterdam and then on the connecting flight to Barcelona. KLM had great service and even better, they were on time. The plane was supposed to arrive in Barcelona at 2:30 PM. I had arranged to rent an apartment in Barcelona for two weeks and I was meeting one of the people I was renting from at 3:45 PM. After the long flight, jet lag and arrival in strange city, it was a relief that there would be no problem keeping my appointment.
I was traveling to Barcelona alone. My wife does not fly (post traumatic stress from the flight from hell into Santa Fe, New Mexico from Denver). Also my beloved does not have wanderlust, like I do. The urge to spend a large amount of money traveling to an unfamiliar place where they speak a different language is not something that everyone shares.
My first experience in Barcelona was trying to get a cab to the apartment I was renting. The address of the apartment is 1 Emili Vendrell (to use the Ingles form). As I later found out, Emili Vendrell is a tiny square (apparently Emili Vendrell was a tenor, who sang Wagner among other things). The Emili Vendrell plaza consists of a graffitied fountain against one wall and a square of sand with perhaps six trees. This is not exactly Placa Catalunya or Placa Espana.
The first cab driver I asked had never heard of Emili Vendrell. With the firm belief that time is money, he had no desire to waste his time with me when he could get a client who was going to a hotel he had actually heard of. Fortunately as I moved down the taxi line I found a driver who was patient enough to learn from me that Emili Vendrell was on the corner of Joaquim Costa and Peu de la Creu, which was a location he had heard of (The Meridian Hotel, one of Barcelona's most expensive hotels, is located on the street Pintor Fortuny, down Peu de la Creu near the apartment).
The owner of the apartment, Victor, was busy that Saturday afternoon but his associate Alba was there to meet me. She speaks Italian and French, but only a little english. However, between my poor spanish, Alba's limited english and a little french (my french is even worse than my spanish) we were able to cover most of the important issues.
After Alba left and I had unpacked, I walked around the neighborhood a little. There were a couple of tiny grocery stores, one run by a Filipino who had lived in the United States and spoke accent-less english. I bought six eggs, some butter, a baguette and a bottle of water.
As I walked around some of the local streets I found it hard to keep any sense of direction. The streets are narrower than I'm used to and the old apartment buildings all seemed to be the same. I worried that I would lose my way (I had not yet developed my inseparable relationship with my Rough Guide Map of Barcelona). It took me a while to realize that in Barcelona they put the street signs on the sides of the buildings on the corner.
Barcelona and perhaps all of Spain is a place where by US standards they eat late. Lunch is usually not served until 1:30. Dinner starts at 8:30. In an attempt to fight the jet lag, I stayed up and went out to dinner at 8:30. I had dinner just down the street from my apartment at La Casa de la Rioja (Peu de la Creu 8-10). Like many of the restaurants in Barcelona they had a menu ingles (a menu in english). I ordered two appetizers: pan i tomato (bread rubbed with tomato), with cured ham and sausage and asparagus with a white sauce, along with glass of the house red wine.
In Spain they do not bring you the check. It is considered rude, tantamount to insisting that you leave the restaurant. So the first problem I ran into at la Rioja was asking for the check after I was done. Fortunately the waitress knew a little english and told me that the proper way to ask is "por favor, la cuenta".
It was fortunate that I speak a little spanish. Most of the people I encountered in Barcelona spoke little or no english. Victor, the owner of the apartment, who speaks excellent english said that this was due to the educational system which does not emphasize english.
At one time Spain ruled most of the known world. Although the last vestige of the empire disappeared after the Spanish American war, Spain seems to look more toward Central and South America than toward Northern America. One example of this is the Spanish author Arturo Perez-Reverte's excellent book Queen of the South where the central character is Mexican and the novel both starts and ends in Mexico. The feeling I got from the book was that a Mexican character was exotic, but also familiar to Perez-Reverte's Spanish readers.
There was a pizza restaurant and a small bar on the first floor of my apartment building. As I found out my first Saturday night in Barcelona, on Saturday people go out and have a good time until early in the morning. I brought some mild sleeping pills but still did not sleep well until the early morning when everything quieted down. To make up for Saturday's revels, people seem to get up later on Sunday, when most stores and many restaurants are closed.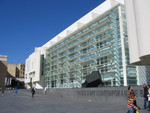 The Barcelona Museum of Contemporary Art, designed by Richard Meier
The apartment I rented was in the "Old City", in the upper Ravel neighborhood (by "up" I mean "North"), a few blocks from the Museum of Contemporary Art. It was also within walking distance of La Rambla and the Placa Catalunya Metro station.
When you read about Barcelona one of the features that is mentioned frequently is La Rambla. La Rambla is a thoroughfare that runs from Placa Catalunya down to the Drassanes maritime museum near Port Vell. At one time La Rambla was five different streets (and so is sometimes referred to in the plural form, Las Ramblas). These streets were built on top of an old river bed.
La Rambla has a wide center thoroughfare for pedestrians that has trees and lamps on the edges. There are one lane streets for cars and busses on the right and left sides, but traffic cannot cross the pedestrian section. The main use of La Rambla seems to be as a pedestrian passage from one place to another, since you can walk down La Rambla without worrying about car and bus traffic.
There is a romance and a charm attributed to La Rambla that was not apparent when I was in Barcelona. I'm not sure what happened. The pedestrian area down the center of La Rambla has cast iron benches and you still see older people sitting in them watching the crowds flow by. There are stalls that sell newspapers and magazines and a few stalls that sell spanish lottery tickets. There are also a few stalls that sell birds and flowers. The sidewalk on either side is too narrow for more than a few cafe tables, so you don't see the sort of cafes you see on other streets with their tables spread out on the wide concrete sidewalk.
La Rambla has the feel of a tourist area. Many of the restaurants that line the side of La Rambla are geared to tourists (there is even a Burger King at the top of La Rambla). In the pedestrian center there are human manikins, posing as Che Guevara, Humphrey Bogart, soldiers, a black robed death and other imaginary characters. One is supposed to contribute coins in exchange for their presence. There are a number of hotels off of La Rambla, but given the constant noise from the traffic and crowds, I would avoid them.
Barcelona's Eixample District

| | | |
| --- | --- | --- |
In contrast to La Rambla, I thought that many of the streets in the Eixample where charming. The Eixample is the "new" part of Barcelona, built in the mid to late 1800s. Gaudi's masterwork Casa Batlló is located in the Eixample, along with many other stellar examples of Barcelona's modernista architectural movement. Many of the apartment buildings that line the wide streets of the Eixample remind me of French "empire" style. The Eixample is home to many designer stores, cafes and restaurants.
My memory of my first Sunday in Barcelona is shrouded by the fog of jet lag. I recall that I made myself an omelet for breakfast with the eggs and butter I had bought Saturday. I walked to the Placa de Catalunya and then down Passeig de Gracia a little ways. I was desperate for a lettuce salad and I went to one of the tourist places on La Rambla that catered for foreigners and had salad on the menu.
Salad in Barcelona in general means almost anything but a lettuce salad. For example, tomato and goat cheese. Since lettuce salads are included on the menu for tourists, their preparation is not very sophisticated. You get a bowl of lettuce and bottles of olive oil and vinegar. The idea of a chef mixing a salad dressing of oil, balsamic and spices and tossing it over the salad before it is brought to the table has not yet arrived in Barcelona as far as I can tell.
I am not an experienced traveler. My knowledge of places outside of the United States comes from reading books of travel essays and histories. Reading some of the history of a country before you visit gives the experience more depth. But it can also provide an odd perspective. When it comes to Greece, for example, I have read a book on the Greek war of independence (The Greek War of Independence by David Brewer), Greek classical history (over 2,000 years in the past) and a couple of modern travel accounts. The impression left by classical history is that Sparta an important place in Greece. Sparta was the home of Agamemnon and the mythically beautiful Helen. Three hundred Spartan warriors fought to the death to hold off the invading Persians to give the rest of Greece time to organize. It was Sparta that won the long war of attrition with Athens. From this perspective I was surprised to learn that the main feature of what used to be Sparta is now a concrete plant.
I had no definite expectations of what travel would be like. I just had a vague idea that it would be something wonderful. And so it was. But in among the wonderful moments there were some difficult ones too.
The size and strangeness of Barcelona was intimidating and overwhelming. I had talked to many people who traveled without being able to speak the local language. Since I spoke a little bit of spanish, I did not to expect the difficulties I encountered communicating about even simple things. The first weekend I was in Barcelona I asked myself what I had done. Here I had spent all this money to come to Spain and it did not feel wonderful. There was a part of me that did not even want to leave the apartment. Especially when I had a frustrating experience trying to talk to someone recently, it felt like a little act of courage each time I went out in the morning.
I also did not expect to feel as lonely as I did. Before I went to Barcelona, I purchased a cell phone that would work in Spain and I talked to my wife twice a day, early in the morning and at night. When I talked to my wife each evening it was a relief to speak english after struggling with my limited spanish.
One of the reasons that I chose the Emili Vendrell apartment is that it had an Internet connection. I brought our increasingly antiquated Dell laptop computer to Barcelona. Since I did not want our computer hacked, I also brought a D-Link firewall router and Ethernet cable. As it turned out, I was unable to use the firewall. The apartments ADSL Internet connection was of a type I had never heard of before. The ADSL modem had a Universal Serial Bus (USB) output rather than an ethernet output as I expected. It used PPP protocol over the ADSL, rather than TCP/IP, so to get a connection you actually "dialed in". Initially I was not sure how to get the USB connection to work with my laptop, so I tried to use the computer that was in the apartment. Without a tool like Ethereal it is hard to know for sure, but the computer seemed to be infected with a virus. As soon as an Internet connection was established, the computer started sending data packets to the Internet, even when there was no user activity generating traffic. The computer was also very unstable. After running a virus scan Internet Explorer stopped working.
Victor, the owner of the apartment, gave me the ADSL installation CD-ROM and I was able to get the USB driver working on my laptop. This was great because it gave me access to on-line dictionaries, US and world news in english (I tried the International Herald Tribute newspaper, but it was not very good) and I could download my Barcelona photos from my digital camera to the Bearcave photo gallery.
La Boqueria

| | |
| --- | --- |
On Monday I went to Barcelona's famous La Boqueria covered market. I thought that the market would be open early and I arrived at about 9:00 in the morning. As it turns out, Barcelona stays up late and starts late. I would hear children going to school around 8:30 on 9:00 (in the US school usually starts at 8:15 or earlier). At 9:00 people in the market were still unloading crates of vegetables and stocking their stalls.
La Boqueria deserves its famous reputation. It is an amazing market. La Boqueria is a large covered building that is open on the sides. The front, facing La Rambla, has some lovely art nouveau decoration over the entrance of ironwork and stained glass. The market consists of stalls run by independent vendors. They sell a wide range of fruits, vegetables, seafood and fresh meats. There are also stalls that sell sausages and cheeses. I even found a stall that sold spices and olive oil (unfortunately he did not sell vinegar). In keeping with Barcelona's culinary disposition, it was difficult to find lettuce. But at one stall I was able to buy the largest butter lettuce I've ever seen. I also bought an avocado, a head of garlic and some shrimp (which had been frozen).
After shopping at La Boqueria, I came to realize that I have a very American view (or perhaps American male view) of shopping. I want to go in, get what I need and leave. Shopping at the Boqueria is not like that. Surrounding the Boqueria there are wine bars and places that sell snacks. The proper Barcelona attitude is for shopping to be an experience. You shop for a while, have a glass of wine, maybe a little something to eat and then you shop some more. La Boqueria is an experience, not just a shopping expedition.
Victor and Alba had kindly left the apartment stocked with some nice ground Columbian roast coffee (I was never able to find French roast in Barcelona). I like cream in my coffee, but looking around La Boqueria I could not find a stall that sold dairy products. I asked at one of the stores on the edge of the Boqueria where I could buy milk and was pointed to a small grocery store. When I walked into the store it was warm. I could not see any cold dairy cases. I asked where the milk was and they pointed me to a shelf of boxes. As it turns out, milk in Barcelona is sold sterilized, in boxes and stored at room temperature. As someone who is used to buying fresh dairy, this just seems wrong and I thanked the people at the store and left. Although I am sure that there is nothing unhealthy about dairy stored in this way, it does seem to me that storing it at room temperature will change it through chemical action, if nothing else.
The largest supermarket near my apartment was in the basement of El Corte Ingles. El Corte Ingles is a huge department store, like Macy's in the United States, but much more extensive. You can buy almost anything you can think of at El Corte Ingles or its satellite store a few blocks away which sells outdoor gear and sports equipment. The supermarket takes up most of the basement. Surrounding the supermarket are areas where they sell household cleaning supplies, bathroom items, pots and pans and prepared food (little tuna pizzas, quiche and pastries).
The supermarkado at El Corte Ingles is not as large as many urban supermarkets in the United States. American supermarkets are in buildings with very high ceilings. The low ceilings of El Corte Ingles gave it a slightly claustrophobic feel. When I first went there after putting away the items I had purchased at La Boqueria, I was still tired from jet lag. It seemed impossible to find anything and with my limited spanish I was not sure how to ask about the location of some items. I was finally able to find refrigerated cream. When it was first pointed out to me, I did not understand. I expected to see a carton labeled crema. As it turns out, the spanish synonym nata is used in Barcelona.
El Corte Ingles has pre-washed packaged lettuce and after I finished off the monster butter lettuce I had purchased at La Boqueria I ate this lettuce for dinner most evenings. El Corte Ingles has staffed cheese, meat and seafood sections. I was able to purchase Greek style feta and Queso Cheddar Ingles at the cheese section. There is also a pretty good bread section which has pan natural which is the local version of sourdough bread.
Catalunya is a wine growing region and the Catalan wines, and Spanish wines in general, are excellent. Since I was traveling alone, when I ate at restaurants I frequently would have a glass of the house wine. I did not have a bad glass of wine the entire time I was in Barcelona. El Corte Ingles has an extensive wine selection, with rows dedicated to reds, whites and sparkling wine (Spanish cavas). Many Spanish wines are from small vineyards and the wines are not exported to the United States.
After shopping at La Boqueria and El Corte Ingles on Monday, it was still relatively early so I called Set Ports (Seven Doors) on Passeig Isabell II and made a reservation for 1:30, which is when they start serving lunch. Set Ports is famous for its paella. Their staff speaks some english so there was no problem making the reservation.
| Port Vell | The mega yacht Lady Christine at Port Vell |
| --- | --- |
Set Ports is located at Barcelona's Port Vell and it is easy to take the Metro to a nearby station. But I had not yet learned how to get around on the Metro and I took a taxi (the driver informed me that the street that Set Ports is on is Passeig Isabell Secoundo, not Passeig Isabell Dos, which is how I pronounce it).
Set Ports has restrained elegance. The waiters and waitresses dress in white. They have menus in english and are helpful when it comes to the menu. I ordered a paella for one (I had a version of paella where everything is unshelled for you).
The paellas at Set Ports are very good. The paella is made with a seafood stock and is very flavorful. The rice was nicely al dente, with the classic crusty rice near the bottom. Paella is usually made with high quality olive oil. About four to six tablespoons of olive oil for a paella that would serve four. The only problem with the Set Ports paella is that it had at least this amount of olive oil for a single person paella. All the olive oil made the paella very rich. I ate the whole paella and was left feeling somewhat queasy.
Soon after I ordered my paella at Set Ports, a Barcelona gentleman sat down at the table next to me and started smoking. I did not find that the addition of tobacco smoke improved my lunch.
For a Californian the smoke filled restaurants in Barcelona take a bit of getting used to. I went to a small neighborhood restaurant where the air was literally blue from cigarette smoke during lunch. The apartment I rented had also obviously previously been rented by a smoker (I aired it out and the scent of stale smoke disappeared after a couple of days). Apparently taxes on tobacco are low in Spain and there is a sizable part of the population that smokes.
The decision to travel crystallized for me in December of 2004. I had always hoped that my wife and I would travel together, but I finally accepted the fact that this was not going to happen. I'm fortunate that I can afford the trip and I had the vacation time. There was no reason not to go to Europe.
There were a number of reasons I chose to visit Barcelona. I am not fluent in any foreign language, but I do speak a little spanish. I took spanish in High School (to fulfill a University of California entrance requirement) and in California, where spanish is the second language, spanish has a familiar feel. Travel was a slightly scary idea and the fact that I spoke a little spanish was comforting.
Barcelona is in Catalunya, which is not like the rest of spain. The authoritarian impulse that runs through Spanish culture seems to be missing in Catlalunya. Even now the Catalans have an independent streak. Catalunya has a history of both industrial innovation and progressive (or sometimes radical) politics. Catalunya resisted Franco and the Spanish fascists. Progressives from the United States fought in the Lincoln Brigade with the Catalans and the anti-Franco forces.
Although Catalan history has a romantic appeal to me, the core reason I traveled to Barcelona was to see the architecture. There are few cities in the world that revere architecture in the way Barcelona does. The most famous architect in Catalan history is Antoni Gaudi. I have loved Gaudi's work since I first saw it.
Two of the most famous buildings that Gaudi designed, Casa Batlló and Casa Mila are located in Barcelona's "new city", the Eixample. They were a pretty long walk from my apartment, so I knew that the time had come to learn to ride the Metro
The Barcelona Metro was an unknown for me. The entrances all descend below ground and I had no idea what was down there. Perhaps this is where Barcelona's infamous pick-pockets hung out waiting for tourists. In retrospect my nervousness about the Barcelona Metro was silly. As I found out, Barcelona's Metro is one of the best ways to get around the city. If you purchase a 10 ride ticket, each ride is about $1 US (at an exchange rate of about $1.30 per Euro). Once you figure out how the Metro lines are named, the Barcelona Metro is very easy to understand. Each line is color coded and against the back wall of the platform they have a little map with an arrow that shows the direction of the Metro train and its stops. The only time I took the wrong train was when I was day dreaming and not paying attention.
Casa Lleo Morena designed
by Domenech i Montaner
Casa Amantller
Back window of
Casa Amantller
Casa Batlló
Stained glass windows
Casa Batlló
Ceiling chandelier
Casa Batlló
Carved wood door,
Casa Batlló
Tiled light well,
Casa Batlló
The Metro station I got off on was a couple of blocks away from Casa Batlló. Casa Batlló is next to Casa Amantller, another impressive Modernista building. Casa Batlló is featured in any book on Gaudi. After seeing the pictures over the years it was a moving experience to finally see the building.
Casa Batlló is owned by the government and a foundation, so there are no longer residents in the apartments. To visit Casa Batlló, you buy a ticket on the ground floor. This includes an audio guide for a self guided tour. I arrived soon after they opened and there were only a few other visitors there. As I went in I recognized the stairway from a book I have on Art Nouveau in Catalunya. No matter how good the photographer, a photograph can never equal the reality of seeing something in person.
Gaudi's work at Park Guell is notable for the elaborate tile work on the two entry buildings and on the column "forest" that supports the plaza (including the famous tiled benches). The only notable tile work at Casa Batlló is in the light well by the stairway leading up through the building. Casa Batlló was full of light, both from windows and skylights. The building also has an airy fluid feel from the Art Nouveau curves. Gaudi was supposed to have been inspired by fluid forms in nature and this influence seems apparent in Casa Batlló. Walking through the building was such a moving experience that I had to fight back tears.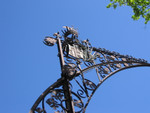 A wrought iron lamp post on Passeig de Gracia
After seeing Casa Batlló, I walked a few block to Gaudi's Casa Mila, which is also referred to as La Pedrera (the quarry). I arrived mid-morning, so I had to wait in line to buy a ticket and for the elevator that takes you to the top apartment floor.
Casa Mila foreshadows some of Gaudi's later work. The building has the sinuous stone form and masonry arch supports that can be seen in his chapel (the crypt) at Colonia Guell. Apparently the flowing stone that ripple across each floor of the Casa Mila apartment building remind some people of a quarry, where stone has been cut away from the rock face.
Casa Mila is structurally interesting, but the inside of the apartment that visitors are allowed to tour is without interest. It is still furnished with Victorian furniture and appliances. The apartment has a dry Victorian feel, with none of the Art Nouveau beauty of Casa Batlló.
The apartment that is open for visitors is directly below the sub-roof floor. This level shows the beautiful masonry parabolic arches that Gaudi used to hold up the roof and which probably provide structural support for the rest of the building.
Perhaps the most famous feature of Casa Mila is the roof and the sculptured chimneys. The chimneys have the look of helmeted Greek warriors or the imperial guards in the Star Wars movies. There are also several tiled and stuccoed sculptured forms that house the stairwells, giving the roof a playful feel that the rest of the building lacks.
Struggling to communicate with my limited spanish and being separated from my wife, there were times when I wondered if traveling to Barcelona had been a mistake. Seeing the modernista buildings in the Eixample and Gaudi's remarkable Casa Batlló and Casa Mila, I felt that it was worth it. So it was with great excitement that I set out the next day to see Gaudi's Sagrada Familia cathedral. Most books on Gaudi's work include his last and largest work, Sagrada Familia, so I expected that like Casa Batlló, Sagrada Familia would be even better in person.
Sagrada Familia was the last work of Gaudi's life. Once he started on it, he worked on it full time until he died as a result of a tram accident. During those last years he lived in a small house on the building site.
In the socialist ferment at the end nineteenth and the beginning of the twentieth centuries, Catalunya was gripped by anti-clerical riots that resulted in the destruction of church property. Gaudi was a Catalan nationalist and he seems to have taken the regional affront to his Catholic God to heart. Sagrada Familia was built to atone for sin, those regional and perhaps those personal. This is reflected in the name: Temple Expiatori de la Sagrada Familia. A temple built for the expiation of sin.
Sagrada Familia consumed Gaudi's life and became a constant struggle, which perhaps he welcomed (atonement requires pain and struggle, after all). Gaudi's funding from patrons for Sagrada Familia was limited and as the project progressed, Gaudi literally went door to door trying to raise money for his project. Apparently there are members of the Catholic Church on the Sagrada Familia board now, but Gaudi got no funds from the Church for construction.
Even if Gaudi had adequate funds, it is unlikely that a project as ambitious as Sagrada Familia would have been finished in Gaudi's lifetime. While Gaudi was alive four towers and an entrance were completed. As you approach Sagrada Familia from the subway it is these towers and the cranes and scaffolds of the continuing construction that you see.
These towers are famous from the books on Gaudi, so I was excited as I walked toward Sagrada Familia. The entrance is opposite Gaudi's towers. To enter you buy an 8 Euro ticket, which allows you to wander around the lower floor of the building. To ride the elevator to the top of one of the new towers costs another 2 Euros. In retrospect I wish I had saved the 10 Euros and spent them on lunch.
The new part of Sagrada Familia is a travesty. The entry to the cathedral is surmounted by grim modernist sculptures, which pay cartoon-ish homage to Gaudi by including the helmet forms from his Casa Mila chimneys. The sculpture in Gaudi's section is lifelike and fluid. The sculpture in the new entryway is angular and abstract. Walking through the doors into the cathedral you soon arrive at an interior that is largely obscured by construction scaffolds. The pillars that support the structure use modern concrete and steel. They branch at the top in a tree like form. A similar form was used by Gaudi at Colonia Guell. Like the sculptures, these pillars have none of Gaudi's fluid form and parabolic support structure. While this support structure might be interesting in a modern building, they are an insult to Gaudi's original design.
There will never be another Antoni Gaudi. It would be unreasonable to expect that the architects that have designed the new section of Sagrada Familia would do it exactly as Gaudi would have. What is remarkable is that they seem to have decided to entirely ignore Gaudi's design aesthetic. By grafting such an alien modernist structure onto Gaudi's original towers, the cathedral has been destroyed. I was so disappointed by my walk through the new addition that when I finally arrived at Gaudi's original structure, I could not fully appreciate it.
I walked out of Sagrada Familia with dashed expectations. What saved the day was the Hospital de la Santa Creu i Sant Pau designed by the modernista architect Lluis Domenech i Montaner (who also designed the spectacular Plau de la Musica Catalana). Sant Pau is a few blocks away from Sagrada Familia. It was as welcome a surprise as Sagrada Familia was a disappointment.
Hospital de la Santa Creu i Sant Pau designed by Lluis Domenech i Montaner

| | | | |
| --- | --- | --- | --- |
| | | | |
I had seen a few pictures of Hospital Sant Pau and read about Domenech i Montaner whose design of the Sant Pau was state of the art in the early twentieth century. I did not realize until I visited Sant Pau that it is still a working hospital. The entry way has a glassed in urgent care waiting room, for example. Domenech i Montaner believed that people would recover their health sooner and more successfully in beautiful surroundings. The spectacular modernista medical pavilions are surrounded by gardens and trees.
There was a woman sitting in an information booth in the main lobby who spoke a bit of english. I was the only tourist there, so unless she also helped people find the various hospital departments, it must have been a very boring job.
The Hospital Sant Pau was such a wonderful surprise. Except for a few photographs, I was unfamiliar with Domenech i Montaner's work. The Hospital Sant Pau was also much larger than I expected. I walked through the garden and some of the buildings in a daze of amazement. I noticed a number of medical departments, but I don't know if these are just for consulting or if there are still hospital rooms in the basement level as there were during Domenech i Montaner's time. I did not go down to the lower levels, since it seemed inappropriate for a tourist to wander through the working medical areas.
Plau de la Musica designed by Domenech i Montaner

| | |
| --- | --- |
I went to see Domenech i Montaner's Plau de la Musica two days later (the tour tickets sell out rapidly and I had to buy a ticket a day in advance). Domenech i Montaner has done several buildings in Barcelona. Of all these, the Plau de la Musica is probably Domenech i Montaner's master work.
At the time Domenech i Montaner was commissioned to build the Plau de la Musica, there was a fad for choral singing. Choral societies had formed all over Catalunya. These choral societies were largely working class social organizations, but also expressed Catalan nationalism. The Plau de la Musica was commissioned by the largest of the choral societies. It was designed for choral performances as well as the performance of classical music, especially Wagner, who was popular at the time (I've never understood the popularity of Wagner).
Photography is not allowed inside the Plau de la Musica, so I was only able to take photographs of the outside the building. You can buy an excellent book, translated into the major European languages, that includes photographs of the inside of the Plau de la Musica.
The decoration of Domenech i Montaner's Hospital Sant Pau become lush and ever present in the Plau de la Musica. The domed space of the auditorium of the Plau de la Musica is surmounted by a huge stained glass skylight. Surrounding the skylight are tiles with white and red roses, which are a theme through out the building. The walls of the auditorium are stained glass as well. Glass is not usually used in buildings where there is concern about acoustics and the Plau de la Musica was criticized originally because of poor acoustics. The modern building has a external curtain wall of Plexiglas panels with an air gap of a few feet that provides sound insulation. Before this curtain wall existed street noise may have penetrated the auditorium.
Supporting the orchestra level ceiling in the Plau de la Musica auditorium are two large pillars surmounted by sculpture. The sculpture on one side is dominated by a tree that symbolizes the choral society and Catalunya. On the pillar are horses ridden by Valkyries and the busts of classical music composers.
There is an active music program at the Plau de la Musica, with performances ranging from popular to baroque classical music. In addition to the main auditorium there is a chamber music auditorium. One of the frustrations in having such a poor command of spanish is that I was unable to unravel the schedule so I did not attend a performance at the Plau de la Musica. I suspect that it would be sublime to hear Mozart's Requiem Mass or Bach's B-minor Mass in this setting.
Barcelona's Gothic Quarter

| | | |
| --- | --- | --- |
In addition to the Modernista architecture of Gaudi, Domenech i Montaner and their contemporaries and the modern architecture of Meier's Museum of Contemporary art, Barcelona has a Gothic quarter with buildings and cathedrals that go back to the 1300s and 1400.
Santa Maria del Mar Cathedral

| | | | |
| --- | --- | --- | --- |
One of the most impressive works of Gothic architecture in Barcelona is the Santa Maria del Mar cathedral. The term "del Mar" translates to something like "of the sea". Modern Barcelona feels like it looks away from the sea on which it resides. There is Port Vell and Barcelonetta, but they still feel like the suburbs they were at one time.
In Gothic times Barcelona was more directly involved with the sea, both as a trading port and through its fishing fleet. Santa Maria del Mar is the cathedral that was built by those involved with the sea.
Santa Maria del Mar is filled with light, in contrast to Barcelona's somewhat dark Le Seu cathedral. Even for an atheist like me, Santa Maria del Mar felt like a sacred space. The cathedral is beautiful in its simplicity. There are no frescoes or other art beyond the alter. What you see is the expanse of the cathedral lit by the stained glass windows and the beautiful clean lines of the supporting pillars and arches.
French and English Gothic cathedrals like Notre Dame and Canterbury have walls that are supported by external buttresses. The walls in turn support the roof. This architectural style creates an interior that is open and airy, existing with out support when seen from inside. In contrast, both Le Seu and Santa Maria del Mar in Barcelona are supported by internal pillars, arches and the domes on either end of the cathedral. I thought that the explicit architectural structure of the Barcelona cathedrals was beautiful. The pillars bifurcate into the intersecting arches that support the roof in a lovely symmetry.
I planned my two week visit to Barcelona so that it would include Sant Jordi's Day on Saturday, April 23 (Sant Jordi is Saint George in english). Sant Jordi's day is Barcelona's own version of Saint Valentine's day. It is a day that celebrates both lovers and books. On Sant Jordi's day the custom is for a man to give his lover a rose and for her to give him a book.
According to the City of Barcelona, over 400,000 books are sold on Sant Jordi's day. The pedestrian center of La Rambla and the sidewalks of Passeig de Gracia in the Eixample are lined with book stalls.
I was looking forward to Sant Jordi's day. I started out relatively early, at around 10:00 in the morning. Later in the day La Rambla becomes a sea of people, but at that time it was not too bad. I'm a compulsive book buyer. My wife and I have a few thousand books, which are by far the most valuable and most voluminous of our possessions.
I knew that most of the books sold on Sant Jordi's day would be in spanish or Catalan, but I hoped that there would be book stalls that sold english books as well. I even harbored fantasies of finding some rare editions that could only be found in Europe. In preparation for all of the wonderful books I was going to buy, I looked up the location of a United Postal Service office so I could mail my books back to the United States. Unfortunately my book dreams remained fantasy. I walked from the top of La Rambla all the way down to the end, near Port Vell and did not find a single stall that sold english books. I then took the subway from the Drassanes station up to Passeig de Gracia and walked through the Eixample. Again my search for books stalls that sold english books was unsuccessful.
As I walked down the Passeig de Gracia I passed a sidewalk cafe where I saw some women with english paperbacks. I asked them if they have found an elusive english book stall that I missed. As it turned out, they were a small book club and they were exchanging books. They had not seen any english book stalls either. There were four or five women, at least one of whom was Spanish. They invited me to sit with them, but I'm sorry to say that I was too shy to accept the invitation. Looking back on this, I wish I had taken them up on their invitation. Some of the women were part of an American club in Barcelona and had probably been long term residents. I'm sure that I would have learned more about the city if I had not let my shyness get in the way.
In my wanderings through Barcelona I encountered a number of nice books stores. Barcelona has not been taken over by the huge chain bookstores that have put most of the independent books stores in the United States out of business. Some of these books stores had small sections of english books that sold current best sellers. I buy a lot of books, so when it comes to best sellers, I either already own the book or don't want to read it. So I did not find any books I wanted to buy.
I grew up with good food and good conversation. I usually happily talk to my wife during meals, but in Barcelona my companion when I ate out was a book. If I could have found someone interesting to invite to a meal who spoke english I would have gladly picked up the check. After walking around all morning and into the early afternoon I would be tired out. Sometimes I would catch up on the news in the US (something that tended to be depressing), down load my photos or write a bit about Barcelona. I also read through my little collection of books.
As I entered my second week in Barcelona it was clear that I was running out of books. In a Barcelona magazine for english speakers I saw an add for Hibernian Books, a book store that specialized in used english books. The stop for Hibernian Books was on the same Metro line that one takes to visit Gaudi's Park Guell.
Park Guell is one of Barcelona's most famous landmarks and it is included in almost every book on Gaudi. Park Guell was originally designed to be a housing development. Gaudi designed the famous plaza that is supported by tiled pillars and the near by limestone "viaducts". He also designed two buildings that straddle what is now the entrance to the park.
The Rough Guide to Barcelona suggests using the Vallcarca Metro stop to get to Park Guell. Interestingly, Time Out Barcelona suggests the Lesseps stop, just before the Vallcarca stop. As it turns out, both are correct. Directions are clearly market to Park Guell from the Vallcarca Metro station, which according to the signs is technically a shorter walk to Park Guell than the Lesseps station. However, going from the Vallcarca station you reach the back entrance to Park Guell, where as going from the Lesseps station you reach the front.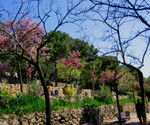 Plum Trees and Benches at Park Guell
Park Guell is a fairly large park that includes play grounds and an area for dogs. There are also a couple of private estates that are still at Park Guell. Going from Vallcarca one must walk through most of the park before finally reaching the Gaudi's Plaza. Gaudi's work aside, Park Guell is beautiful in places. Coming from the back of the park you approach Gaudi's plaza from above. Walking down to the plaza you pass a lovely terraced area with plum trees and benches.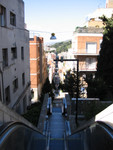 A view from the top of the Park Guell hill, down the out of service escalator
If you're just going to Park Guell to see Gaudi's work, it may actually make sense to go from the Lesseps Metro station. Although it is a little farther, it is not up as steep a hill and you end up at the front of the Park.

Limestone supports for the
hill behind the plaza

Limestone viaduct
The Park Guell plaza is dug into the side of a hill. The approach to the plaza and the hillside is supported by limestone masonry. There are also limestone viaducts on the sides of the plaza. This limestone came from the Guell lime kilns that were used in concrete manufacture. These kilns not only fired limestone to lime, but they were also constructed of limestone. After a series of firings, the limestone kilns would be taken apart and rebuilt with new limestone. The inexpensive discarded limestone provided the rough organic forms that appealed to Gaudi.
Mosaic Benches on the edge of the Park Guell plaza

| | | |
| --- | --- | --- |
The fame of Park Guell makes it a major tourist attraction and even in April there were lots of people sitting on the Gaudi's famous mosaic benches that line the top of the plaza.
The forest of columns supporting the plaza

| | |
| --- | --- |
The plaza is held up by a forest of tiled columns, with shallow domes between them. In many areas where there is a flow of people in Barcelona there are buskers who play music. Usually I ignore them. But in the center of the forest of pillars holding up Gaudi's plaza there was a man playing an electronic violin. The violin music fit so perfectly with the pillars that I threw a two euro coin into violinist's case.
The lizard fountain

| | |
| --- | --- |
Steps lead down from the column forest to the entrance of Park Guell. In the middle of these steps is Gaudi's mosaic lizard fountain, which is usually surrounded by people.
Gaudi designed buildings flanking the entrance of Park Guell

| | |
| --- | --- |
There are two Gaudi designed buildings on each side of the park entrance. One of these has a small Gaudi museum, which I did not go into since it was so crowded.
Returning from Park Guell, I planned to replenish my supply of books at Hibernian Books, so I got off at the Fontana Metro stop in Gracia. After walking around Park Guell, I was hungry so I went by a bakery and bought a sandwich and a bottle of water. When it comes to "fast food", Spain definitely beats the US fast food chains. There are little bakery outlets scattered throughout the neighborhoods. They all sell good jamon (ham) and queso (cheese) sandwiches on little baguettes.
I walked down the street to a small park and ate lunch. On one side of the park there was an old Art Nouveau apartment building that had become slightly run down.
Hibernian Books is a used book store, with a fairly large selection of books. Their address is:

Hibernian Books
Calle Pere Serafi 35
near Fontana Metro Station in Gracia

The books in some cases can be a bit worn and the prices are definitely higher than used book stores in the United States. But there few sources for english books in Barcelona and new english books are even more expensive.
Hibernia is a classical name for Ireland and Hibernia books is run by a real Irishman who has lived in Barcelona for some years. We had a "geek moment" when I noticed that Hibernian Books uses a Linux system to track their inventory and track their sales. The Irish gentleman told me about Readerware, which runs on Linux. Readerware is designed to track book collections and bookstore stock. Among other things it will accept input from a bar code reader and look the book up on an Internet database, which means that you frequently don't have to enter the book information by hand.
San Francisco, in California is very much "the city by the Bay". Some of the most expensive real estate in San Francisco overlooks the bay. There is the Marina district (which was hard hit in the 1987) quake, the Embarcadero district, near the city's piers and the Fisherman's Wharf area.
Barcelona is also a bay city, but unlike San Francisco, the bay does not feel like an integral part of Barcelona. Barcelonetta has the feel of being separate from the rest of the city, although it is now physically contiguous.
The area along the water was renovated for the 1992 Olympics held in Barcelona. Before this time the waterfront area was rundown, although both Robert Hughes (Barcelona: the Great Enchantress) and Colm Tóibín (Homage to Barcelona) felt that the old Port Vell and Barcelonetta had charm.
Although there are now (unattractive) office towers and some nice apartment buildings in the Barcelonetta area (near the Ciutadella end), many people go to Barcelonetta for the beach and the sea food.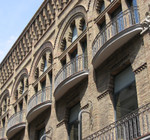 A modernista style apartment block in Barcelonetta, near the restaurant Can Sole
Barcelonetta is a triangle shaped area, with a Metro stop at each end of the triangles base (Barcelonetta and Ciutadella). The sides of the triangle Passeig de Borbo (which in its full form is Passeig de Joan Borbo Comte de Barcelona) and Passeig Martim. Both streets run along the waterfront. The narrow streets of Barcelonetta run between these streets.
The first time I went to Barcelonetta was the Sunday after Sant Jordi's day. Since so many stores and tourist sights are closed on Sunday I thought that I would spend the day walking around Barcelonetta. I got off on the Barcelonetta Metro stop and walked down Passeig de Borbo. When I started out I was too early for lunch. On the Port Vell end there were a number of large restaurants. As I walked down the street there were more cafes and small restaurants.
The harbor area around Port Vell gives way to the beach as you approach the point of the triangle, which points out into the Mediterranean. Walking down the other side of the Triangle, along a "boardwalk" that parallels Passeig Martim there are benches and next to the beach showers for bathers to rinse off. The modernist stacked cube sculpture that is in many of the tourist guides is along this stretch of the beach. Apparently in the summer this area is crowded, but in April the weather had not turned hot and it was not crowded.
From the boardwalk you can look down the narrow streets between the tenement blocks of Barcelonetta. Some of these have a rundown feel, but mixed in are some elegant apartments like the block pictured directly above.
After I had been walking a while I started to think about lunch. My TimeOut Barcelona Eating and Drinking Guide recommended Restaurant Agua, so I decided to see if I could eat lunch there. As it turns out, Restaurant Agua is almost all the way down Passeig Martim.
The guide books recommend reservations for Sunday lunch since so many restaurants are closed. When I arrived at Restaurant Agua a little before 12:00 I asked if I could get a 1:30 reservation. They told me that the earliest reservation available was at 4:30, so I made a reservation for the following Tuesday. Restaurant Agua was become my favorite restaurant in Barcelona. It is in a lovely location, right next to the beach. From observing people walking in from the beach, it does not seem to be possible to get into Restaurant Agua without a reservation.
The restaurant Can Sole in Barcelonetta was also well reviewed in the TimeOut guide, so I decided to try to get in for lunch there. The Rough Guide map shows the locations of some of the more well known restaurants. Can Sole was in a side street, away from the Passeig de Borbo, so I thought that it would be less oriented toward tourists (as it turned out, this was naive). After walking all the way back down Passeig Martim and much of Passeig de Borbo I was getting pretty tired and hungry by the time I arrived at Can Sole. I was happy to find that they could seat me for lunch. I had a good paella, which I liked better than the paella at Set Ports (for my complete review of Can Sole see A Bear Samples Barcelona Restaurants).
The Ciutadella park is the site of a citadel that was built to control Barcelona by the Bourbon monarchy. Catalonia had backed the Carlist contender for the throne and when the Bourbons won, they treated Barcelona as conquered territory. Part of Barcelona was torn down to build the citadel. The narrow apartment blocks in Barcelonetta were built to house some of those who were dispossess. There is bitter feeling in Barcelona toward the Bourbon monarchy which continues to this day. King Juan Carlos has not always been warmly welcomed in Barcelona, although some credit him with supporting the movement away from dictatorship after Franco's death (Juan Carlos stood up to a coup attempt by factions of the Spanish military). When the citadel was finally torn down, the park was put in its place.
Park Ciutadella encloses the Barcelona zoo and a Museum of Zoology (a rather uninspired design by Domenech i Montaner) and a Museum of Modern Art. The zoo is on the size of the park nearest the Ciutadella Metro station. If you don't enter the park from the zoo, you have to walk around to side of the park that faces the Arc de Triomf.
The park is beautiful, with paths through the landscaped grounds. There is a large ornate fountain near the Arc de Triomf end of the park, part of which may have been designed by Gaudi during his apprentice period. Across from the Museum of Modern Art and the Catalonian Parliament building there are benches under the trees where I sat and read for a while, waiting for lunch time to arrive and my reservation at Restaurant Agua.
If you are traveling with your lover (a category that hopefully includes your spouse), there is a lot of pleasure to be had in not doing much but spending time together walking around, sitting in cafes and eating in restaurants. Traveling alone I found that after spending over a week seeing Barcelona, I was starting to get burnt out on the sights. I had seen most of Gaudi's buildings in Barcelona and the major Modernista buildings as well. By the middle of the second week I was looking forward to going home to my beloved. I had not seen Gaudi's chapel at Colonia Guell (referred to as the Crypt) and I still wanted to see this before I returned home. I felt a bit like I was dragging myself out when I went to Colonia Guell outside of Barcelona to see the chapel. As it turned out, I was very glad I made the effort.
To reach Colonia Guell you take the Metro to the Placa d'Espanya station. Next to the Metro station there is a FGC train station, which you take to Colonia Guell. The same Metro tickets are used to ride train. Colonia Guell is about thirty minutes from Placa Espanya and has its own stop.
There is an information booth near the train station at Placa d'Espania where there is someone who speaks english. I was told to take the train line number 2 to Colonia Guell. The train maps and station signs are much more confusing than the metro maps and signs, so at first I was not sure I was on the right train. Like the subway, the train has a map above some of the doors that shows the stops along the train route. Once I understood this map, I could see that I was on the right train line.
When I arrived at Colonia Guell I puzzled about where to go since no Gaudi building was in sight. There is a sign at the Colonia Guell stop with a map that shows where to go. On the map there are footprints showing the way to the Colonia Guell tourist office. I was not sure if I could remember the directions from the map when I ventured out of the station. Then I noticed that the side walk was painted with blue footprints mirroring those on sign.
I followed the blue footprints down a curving road and eventually to the tourist office that sells tickets to Gaudi's "Crypt" chapel. After Barcelona the first thing I noticed about Colonia Guell is the quiet. There was almost no traffic and I encountered only a few people. My impression was that most of the people who live in the little village work elsewhere.
Colonia Guell was originally built as a factory town. Guell's idea was to build a work and residence enclave that would be isolated from the turmoil, unionism and socialism that flowed through Barcelona. A sort of benign company town.
There is still a factory like complex of brick buildings that you see as you walk in to Colonia Guell. I could not tell what sort of business is conducted there.
There are some remarkable houses in the modernista style scattered through Colonia Guell. Even the local elementary school is an attractive brick and stone building with Gothic and modernista touches. Much of Colonia Guell seems to have been bought up by affluent people who own some of the expensive cars I saw drive through town. The few rundown townhouses I saw were being renovated.
The Colonia Guell tourist center that sells tickets for Gaudi's chapel has an exhibit that shows how Gaudi used hanging chain to create the parabolic shapes he used for the arches that support the chapel.
I arrived at the tourist center at around noon. When I bought a ticket the woman told me that there was a funeral at the chapel and that it was closed to tourists until 12:30 or so. Although I was given a map of Colonia Guell at the tourist office, I did not immediately understand how to orient myself with the Colonia Guell map I got at the tourist office. I walked up the street outside the tourist office and up a hill, through a park. At the top of the hill I was surprised to see the tower of a castle. This is a small castle called Torre Salvana, part of which was originally built in the 12th century. Although the castle is a ruin now, additions were added over the centuries so it is a strange mix of architectural styles.
After photographing the castle I walked down the other side of the hill and found that I was approaching Gaudi's "Crypt" chapel from behind. The chapel was originally intended to be the base of a larger church, with towers that resembled the towers of Gaudi's Sagrada Familia. Apparently the Guell family got tired of the time and expense that was being consumed by the chapel. Once the "crypt" was finished, they informed Gaudi that they would not fund anything more.
When the chapel was restored, a stone and concrete roof was added. There are some odd stone lintels, like those at Stone Henge on edge of the room, near the front. Perhaps these are supposed to suggest the unfinished nature of the building, but their effect is jarring and out of place.
Outside of Gaudi's "Crypt" Chapel

| | | | |
| --- | --- | --- | --- |
The outer shell of the chapel is a mix of rough stone and brick. Some of the bricks look like they are taken from the walls of an industrial kiln. They have an organic look, partially melted to black glass in places.
The organic style and intersecting parabolic shapes throughout the chapel are uniquely Gaudi. Although Gaudi was in so many was a conservative, the shapes of the chapel feel like forerunners to the modern art of Picasso, Miro and Dali that was born in Barcelona. Some of the mosaics at the chapel have the feel of Henri Matisse's later work.
At 12:30 the people who had attended the funeral were still gathered in groups, catching up and giving each other comfort. I did not want to disturb this moment, so I sat outside the chapel area fence waiting for people to drift off. After ten minutes or so one of the people who took care of the chapel walked over to where I sat and told me I could go in after I gave her my ticket.
Inside of Gaudi's "Crypt" Chapel

| | | | |
| --- | --- | --- | --- |
The chapel is relatively small, seating perhaps a hundred people. There were no other tourists when I went into the chapel. The alter still had white flowers from the funeral service and some of the alter coverings. I was fortunate to be left alone in the chapel which gave me the chance to photograph it.
The chapel is the last work that Gaudi did before Sagrada Familia and is one of Gaudi's most remarkable works. The chapel shows Gaudi's command of structure and his innovative style. The design suggests that he was not yet fully in the grips of the religious fervor that characterized his work on Sagrada Familia.
I have only seen a few photographs of the chapel in books on Gaudi. The structure of the stone and brick arches and pillars fascinate me. Since I was able to extensively photograph the interior of the chapel when I was the only person there, I have published most of my photos on bearcave.com without editing out photos that are repetitive.
Colonia Guell was the last "sight" that I saw in Barcelona. The next day I ate another wonderful lunch at Restaurant Agua in Barcelonetta, while sitting on the deck next to the beach.
On Friday, my last full day in Barcelona, I just sat around the apartment reading and eating the food I still had (I sauteed some sweet red peppers I had bought and had them with a baguette and goat cheese). I thought about going to see the Palau Guell, which was one of the few Gaudi buildings I had not seen in Barcelona. But I had reached my limit when it came to sightseeing.
A colleague at work asked me if the Barcelonistas were very outgoing and welcoming. While they are certainly not hostile to tourists who contribute to their economy, I would not use these terms to describe them.
The entire time I was in Barcelona no one asked where I was from. This was not just due to the fact that I speak limited spanish and few people in Barcelona speak english. When I've traveled in Mexico, I was frequently asked where I was from. Many people in Mexico have either been to the United States or have family members who have. On one level or another people in Mexico relate to the United States (perhaps not always favorably, given the history of our countries).
I don't think that people in Spain think much about the United States. They look much more toward Europe and the European Union. Their neighbor, France, plays a more important role for Spain than the US does. My guess is that people in Spain relate more to the other spanish speaking countries than to the US, or for that matter, Canada (Californians are more or less indistinguishable from people from British Columbia). I suspect that if I had spoken fluent Mexican spanish, people would have been more curious about who I was and where I was from.
Traveling alone with my limited spanish at times I felt like a ghost moving through Barcelona. Walking through the crowds near the Metro stations or on the street, I sometimes felt like I was invisible. Except when I was buying something or eating at a restaurant, no one interacted with me.
My plane from Barcelona to Amsterdam left at 6:30 in the morning, on Sunday May 1. Since this was an international flight, in theory this meant that I had to be at the airport at around 4:30 AM. The train from Barcelona to the airport does not run in the early morning hours and I was worried that it might be difficult to get a cab to the airport from the apartment.
Using Google, I found the Best Western Hotel Alfa, which according to the hotel web page was the closet hotel to the airport, only a kilometer away. I reserved a room for Saturday night, April 30. My plan was to take the hotel van to the airport.
The Hotel Alfa was sparsely occupied during the night I was there. Most of the guests seemed to be British. Americans have a reputation for being loud, so I was somewhat gratified that at least in this case our British cousins had us beat.
A review of the Hotel Alfa that I read on the Web mentioned that they had a good restaurant. This was true. I had a nice salad and a good main course, although I confess that I don't recall what it was these weeks later.
As it turned out, it was not as easy to get to the airport from the Hotel Alfa as I had hoped. Their airport van does not run that early in the morning. I asked the concierge to reserve a cab for me, but it took a few tries to get someone to show up. And then it cost me something like 23 Euros for what should have been a short ride to the airport. This, along with the 25 Euros it cost for the cab fare from Barcelona to the Hotel Alfa, meant that I spent almost 50 Euros getting to the airport. I probably would have been better off getting a room down the street from the apartment at the La Meridian Hotel and getting the concierge to arrange a cab for me early in the morning.
After I returned to the United States I learned of a remarkable coincidence.
During a two year period that could be characterized as the best of times and the worst of times, my wife and I lived in Santa Fe, New Mexico. During the first eight months we lived in Santa Fe, we rented a wonderful modern style house. The house we rented and all of the houses around it were on large plots of land and the only traffic on the roads was from the residents, so it was relatively safe for dogs to roam. We were adopted by two of our neighbor's Golden Retrievers. Through the Retrievers we became friends with the owners, Ann and Richard.
Ann is a medical doctor who recently volunteer to work in Sudan. When Ann's term in Sudan was over she and her husband spent some time in Europe.
The day I checked out of the Emili Vendrell apartment in Barcelona, my friends checked in. This was an independent choice, since they had not seem what I had written on my web pages about Emili Vendrell.
Sadly I missed Ann and Richard by a few hours and left for the Hotel Alfa having no idea that they were in Barcelona. Since I was not doing anything that day but reading, I'm sorry that I did not get to spend time with them.
The chance that unknown to all of us we would nearly meet in Barcelona seems statistically improbably. About like winning the lottery. When I sent Victor, the owner of Emili Vendrell an email relating this story, he wrote back that this is the kind of remarkable coincidence that shows up when you travel. Whether this is true or not, I don't know, but it is a wonderful idea.
Ian Kaplan, June 2005
---